COVER STORY, SEPTEMBER 2007
IN THE MIX
Northeast properties mix it up.
Brianne Gloski
The Northeast has been inundated with mixed-use projects as of late with developers clambering to jump onto the "live, work, play" bandwagon. Northeast Real Estate Business takes a look at five projects that guarantee a new style of living for visitors, workers and residents alike.
The Launch at Hingham Shipyard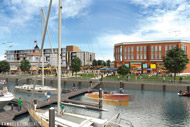 The Launch at Hingham Shipyard site in Hingham, Massachusetts, was used for the building and launching of warships during World War II.
The Launch at Hingham Shipyard will add retail, residential, office and entertainment space to the historic Hingham Shipyard, located 15 miles southeast of Downtown Boston in Hingham, Massachusetts.
The Shipyard was active during World War II — 227 war ships were built and launched in record time on this waterfront site. However, since the 1940s, the site has remained underutilized and virtually abandoned, other than for marina use and ancillary marina services, according to David St. Pierre, president of Lyndhurst, Ohio-based Legacy Capital Partners, which is developing the project in a joint venture with Boston-based Samuels & Associates. In the mid-1990s, Sea Chain LLC began the entitlement process to turn this derelict shipyard into a vibrant, mixed-use, waterfront development.
The $62.5 million Launch at Hingham Shipyard will feature 240,000 square feet of waterfront retail, office, restaurant and entertainment space and 94 luxury condominiums, located above the main street, with waterfront views. The Launch is part of the 130-acre, 1.2 million-square-foot Hingham Shipyard development, which also includes 235 luxury apartment homes developed by AvalonBay Communities, 150 luxury townhomes being developed by Lennar Urban/Roseland Properties and the 500-slip and 100-mooring Hewitts Cove Marina that Sea Chain LLC will continue to own and operate.
The site will also benefit from an on-site MBTA Water Shuttle that provides frequent daily commuter service to Boston. "These daily commuters are expected to provide significant business to the retail establishments at The Launch," says St. Pierre.
The design of the transit-oriented, pedestrian-friendly development was influenced by the historic use of the Shipyard. Elkus Manfredi Architects, the project's design architect, looked to the robust maritime architecture of the 1940s as a point of inspiration, and the buildings resemble those that might have been seen at a shipyard during the wartime period. The history of the Shipyard will be memorialized through a series of wayside panels in a walking tour format along Shipyard Drive and the waterfront walkway, according to St. Pierre.
Samuels & Associates, which owns the project, will also be in charge of leasing for The Launch at Hingham Shipyard. Construction is scheduled to begin this month, with the retail space scheduled to open in spring 2009, followed by the residential space in summer 2009.
"The Hingham Shipyard redevelopment will transform the South Shore, offering a one-of-a-kind mixed-use development where people can work, play, shop, dine and experience," St. Pierre says. "The development has been eagerly anticipated by the town for decades and promises to be a strong attraction."
Assembly Square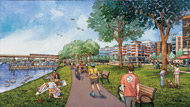 Assembly Square in Somerville, Massachusetts, will become a transit-oriented community once a MBTA Orange Line station is constructed within the waterfront project.
Assembly Square in Somerville, Massachusetts, a development of Rockville, Maryland-based Federal Realty Investment Trust, will feature 66.5 acres of office, retail, residential, research and development, hospitality and entertainment space upon full completion. The project's initial phase — the 330,000-square-foot Assembly Square Marketplace, featuring such national names as Kmart, Christmas Tree Shops, Staples, Bed Bath & Beyond, T.J. Maxx, The Sports Authority and A.C. Moore — opened in the fourth quarter of 2005, and the project's subsequent six phases are slated to begin their openings in 4 years.
Construction of a 340,000-square-foot IKEA, Phase 1AA, is scheduled to begin in fourth quarter 2008, with an opening slated for late 2009. Phase I, anticipated to begin construction in fourth quarter 2009 and open in late 2010 to early 2011, will feature 200,000 square feet of retail space, 400 condominiums and 250 rental apartment units. Phase II will consist of 92,000 square feet of retail space, 190 condos and 250 rental apartments; Phase III will feature 8,000 square feet of retail space and 690 condominiums; Phase IV will feature 76,000 square feet of retail space, 300 rental apartments, a 165-room hotel and a 57,000-square-foot cinema; and Phase V will consist of 1.74 million square feet of office and R&D space and 97,000 square feet of retail space.
The development will benefit from a new transit station located in the project along the MBTA's Orange Line, which connects the project to Downtown Boston, according to Bob Walsh, vice president of development for Federal Realty Investment Trust's Northeast Division. The station will assist in minimizing traffic in the area and create a transit-oriented community.
Preserving green space is also an integral part of the development. The developers will enhance and preserve the existing open space by improving a riverfront park along the Mystic River, constructing a new Assembly Square park at the core of the project, and incorporating roof gardens and green roof technologies into the design, Walsh says. Federal Realty, which is also in charge of leasing, is working with Street-Works, the project's architect, on the development's design. "The design is also heavily influenced by smart growth principles and the desire to create a vibrant new neighborhood highlighted by a high-quality, street-level retail experience, a dense collection of new office space and housing," says Walsh.
Assembly Square is being constructed on a commercial and industrial urban Brownfield, and Federal Realty as well as the City of Somerville worked to create "a dynamic mixed-use waterfront development on what was once a tangle of underutilized commercial, industrial and railroad properties," Walsh says. The waterfront area will also be revitalized to include park space, a pedestrian esplanade and bike paths. A new main shopping street — lined with in-line retailers, restaurants, entertainment venues and a hotel — will also be featured. According to Walsh, this element will create a "dynamic pedestrian experience, anchored at one end by the new waterfront park and at the other end by an urban park."
Albee Square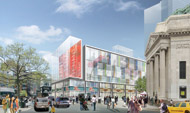 Albee Square in Brooklyn, New York City, is the first major commercial project constructed in accordance with the city's 2004 Downtown Brooklyn Plan.
Albee Square will contribute to the revitalization of Downtown Brooklyn, New York City, upon opening in 2011. According to Kenneth F. Bernstein, president and chief executive officer of White Plains, New York-based Acadia Realty Trust, the project will be the first major commercial project constructed in accordance with New York City's 2004 Downtown Brooklyn Plan.
This ground-up development will consist of 475,000 square feet of retail space, 125,000 square feet of Class A office space, a mix of affordable and market-rate housing, and parking, with retail opening first, followed by the office space and finally, the residential portion. Acadia is developing the project with San Francisco-based MacFarlane Partners, New York City-based P/A Associates and New York City-based Paul Travis. Acadia is also handling the retail leasing for the project.
Not only will the development add more retail, residential and office space to Brooklyn, Albee Square will generate approximately 2,800 construction jobs, and once completed, the development will add more than 1,500 permanent office and retail jobs to this New York City borough.
The Albee Square development will assist in the positive redevelopment of Brooklyn partly because of its renovation of the Fulton Street/Flatbush Avenue intersection. However, this project will not just focus on transforming this intersection: it will work to transform Brooklyn as a whole into a vibrant, active community.
"We wanted to create a dramatic property that would contribute to the transformation of the Fulton Street shopping area and the ongoing renaissance of Downtown Brooklyn," says Bernstein.
Center City
The 90-foot glass dome incorporated into the Center City development in Paterson, New Jersey, was inspired by the Galleria in Milan, Italy.
The developer of Center City in Paterson, New Jersey, is hoping to fill a void in the retail market with its $100 million mixed-use development. Ridgewood, New Jersey-based Center City Partners LLC is working with leasing agent ALMA Realty NJ and architect Nick Tsapatsaris and Associates to provide an alternative to the existing downtown marketplace in Paterson. Center City will consist of 270,000 square feet of retail and entertainment space on three stories and 650 underground parking spaces in one building; 8,000 square feet of office space on two stories in one building; and 220 residential units located on 12 stories in one building. A Community Theaters and Family Entertainment Center will also be integrated into the development. The retail and entertainment portions are scheduled to open in fall 2008, with the office and residential sections to follow in 2009.
The opportunity to live, work, play isn't the only amenity offered to residents and visitors of Center City. Visitors will benefit from the center's free parking and easy access at the end of the exit ramp from Interstate 80. Tourists attracted to the area because of the 70-foot Great Falls in Paterson will also have the opportunity to visit the nearby Center City, thus boosting the local economy even more.
The project's design will lend a lot to the development and the neighborhood as a whole. Nick Tsapatsaris, managing member of Nick Tsapatsaris & Associates in Ridgewood, New Jersey, says, "The objective was to capture an already vibrant pedestrian streetscape and integrate it into the center of the building to a 90-foot glass dome that was inspired by the Galleria in Milan, Italy." Another plus of the design, is that "it exemplifies the power of downtown on a major scale while at the same time not creating a big-box environment," says Tsapatsaris.
Center City's developer hopes that the development will inspire current land and shop owners to beautify and upkeep their properties and stores, says Tsapatsaris. With the added economic boost Center City will add to Paterson, landlords will have the impetus to renovate and rent currently abandoned residences above their retail storefronts. Center City will also add hundreds of new households to Paterson, and these new residents will need a place to shop and work.
111 First Street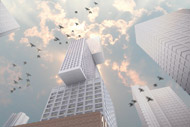 The 52-story, 1.2 million-square-foot 111 First Street project in Jersey City, New Jersey, is located on the site of a former tobacco warehouse.
The as-yet-named 111 First Street development will bring residential, hospitality and retail space to Jersey City, New Jersey's burgeoning waterfront development area. A joint venture between New York City-based BLDG Management Co. and New York City-based The Athena Group, the $539 million development will consist of 1.2 million square feet in a 52-story building featuring 370 residential condominiums, 250 hotel rooms, 87,000 square feet of retail space on two levels, and parking for 700 to 800 cars. 111 First Street will feature a variety of amenities including restaurants, shops, terraces, a pool, a gym, a spa and bar/restaurants.
BLDG Management Co. has owned the property for several years, and last year, the company received the development approvals it needed to construct the project, according to John Smallwood, vice president of development for BLDG Management Co. "Until recently, the property contained a 140-year-old, 280,000-square-foot tobacco warehouse," Smallwood says. "That building was demolished this year, and the property is now a vacant parcel."
Groundbreaking is scheduled for third quarter 2008, with completion slated for third quarter 2011 with an opening following in the fourth quarter of that year.
Location in the Jersey City Powerhouse Arts District is reflected in the project's design, a wish of the city, which wanted to see the developers incorporate art components into the building. Rem Koolhaas of The Office for Metropolitan Architecture was hired to see this vision through. "He came up with a design of cubes that are stacked perpendicularly to create a 52-story tower," says Smallwood. "The stacking maintains the independence of each block, optimizes views from the site, and creates a dynamic relationship between the building and its surroundings."
Developers are positive about 111 First Street's contributions to Jersey City. Not only will additional jobs be created for local residents, but the project's "unique design will create an iconic landmark for the city's waterfront," says Smallwood. "We hope that the development will be the catalyst in making the area a destination for retail, arts and culture."


©2007 France Publications, Inc. Duplication or reproduction of this article not permitted without authorization from France Publications, Inc. For information on reprints of this article contact Barbara Sherer at (630) 554-6054.