FEATURE ARTICLE, OCTOBER 2008
HOTEL DEVELOPERS STILL SEEKING SITES
Hotel development has slowed, but developers and owners still see the value in the Northeast market.
Stephanie Mayhew
Although hotel development is not taking place in the Northeast at the fast and furious pace that it was just a few years ago, national brands, owners and developers are still making headway in the market. Northeast Real Estate Business sat down with Steve Scharf, vice president of development and asset management for The Briad Group, and Rebecca Wyatt, Homewood Suites by Hilton's senior vice president of brand management, to discuss a few of their upcoming projects in the Northeast.
The Briad Group, a franchisor of extended-stay and limited-stay hotel brands such as Marriott, Hilton and Hyatt, as well as quick-service and casual-dining restaurants such as Wendy's and T.G.I. Friday's, is currently developing and constructing several hotels in the Northeast market. According to Scharf, the key to the company's success in the industry has been all about finding the right sites in viable markets.
"The successful performance of a property is market-specific and it is about developing with the right brands," he explains. "Briad has stuck with Marriott and Hilton because they have very long track records, and we get great support from the franchise groups. It is about having the right brand and the right people in place."
As construction costs go up and the economy slows, the firm knows how important selecting the right site can be to ensure a successful hotel that will bring in occupancy and room rates that make sense.
"We continue to be selective and develop in the areas of the Northeast that we know are stable and mature, as well as some other markets that are still in a growth mode — where there are pockets of retail and restaurants being developed," Scharf explains.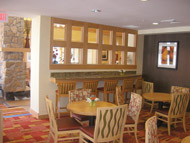 The Briad Group recently completed a 101-room all-suite Marriott Residence Inn in Egg Harbor, New Jersey. The extended stay hotel features a comfortable eating and lounge area decorated with warm tones and other accents that make guests feel at home.
The company recently completed a 101-room, all-suite Marriott Residence Inn in Egg Harbor, New Jersey. The four-story hotel totals 75,256 square feet and features amenities such as spacious living areas, fully equipped kitchens with stainless steel appliances and granite countertops, high-speed Internet access and 32-inch HDTV flat panel TV's.
"Briad chose this location because it was a great mix of business, commercial and leisure. And it was an underserved hotel market with lower priced hotels, but nothing from an upscale all-suite perspective," Scharf says. "Although we have only been open a few months now, we are building business every day. It is performing well and we are very happy with the results to date."
In Dover, New Jersey, Briad is bringing much needed hotel rooms to an underserved market, as well as remediating a blighted site within the town. Developed on a former landfill site, the firm is currently constructing an 86,586-square-foot Homewood Suites by Hilton.
The Briad Group is developing a Hilton Homewood Suites in Dover, New Jersey.
"It is an underserved hotel market, and the Homewood Suites by Hilton brand will be more ideal for long-term corporate and leisure guests than what is currently available in the area," Scharf notes.
Featuring 108 all-suite guestrooms, the four-story hotel is slated to open spring 2009.
The Briad Group is also constructing a 120-room Hilton Garden Inn in Milford, Connecticut.
"We saw an opportunity for an upscale transient product and Hilton is a great company. They have more than 300 Hilton Garden Inns around the United States, and they all are doing extremely well," notes Scharf. "We are expecting a lot of business from Yale University, which is expanding just a short distance away from the hotel site. There is also a large pharmaceutical company in the area."
The site is further enhanced by the new construction of several retail stores and restaurants in the area. The 74,983-square-foot, four-story hotel is slated for completion winter 2009.
Hilton Hotels is constructing a 108-suite Homewood Suites hotel and a 256-room Hilton Garden Inn in Oro II, a 38-story residential tower located Brooklyn.
The Hilton brand is also making headway in the New York City hotel sector. The hospitality company is partnering with developer Ron Hershco to construct a 108-suite Homewood Suites hotel and a 256-room Hilton Garden Inn in Oro II, a 38-story residential tower located at 313 Gold Street in New York City's popular Brooklyn borough. Oro II will sit just behind the nearly-completed 40-story Oro I off Flatbush Avenue Extension in Downtown.
"This is a first for the Homewood brand in terms of having a residential component, so we're looking forward to seeing how the synergies play out. We do have several urban properties that incorporate a mixed-use element, and all have been very successful," says Wyatt. "I think being an upscale, extended-stay brand will play in our favor with the residential because so many of our guests are with us for weeks or months at a time — they settle in and start to feel at home. Being surrounded by full-time residents will create an even stronger 'at home' atmosphere."
The hotels will be configured in a layered tower-style setting with separate lobbies on different floors, as well as separate elevators leading to each brand's guestrooms.
"Brooklyn shares many characteristics with the Homewood brand, so it was a logical choice in terms of location. The borough is characterized by an enormous amount of cultural diversity, a thriving art and music scene, numerous unique neighborhoods and an impressive architectural heritage," says Wyatt. "This property will be convenient to Manhattan via car or mass transit — making it a great choice for both business and leisure travelers. Also, with the sheer number of corporations based in New York City, there's a thriving demand for extended-stay lodging. We feel it's a great fit and this property will become an instant marquis hotel for the brand."
Guests will enjoy a full range of value-driven amenities including daily hot breakfast, a full-service business center, and complimentary high-speed Internet access throughout the property.
"The Homewood Suites guestrooms are designed with the extended-stay traveler in mind. We do everything we can to make our guests feel at home during their stay," explains Wyatt. "This property will have studio, one- and two-bedroom suites with a full kitchen, separate living and sleeping areas, and some amazing views of the New York City skyline! The property will also have an indoor pool and fitness center."
Groundbreaking for the project began in September, and completion is anticipated for late third quarter of 2009.

©2008 France Publications, Inc. Duplication or reproduction of this article not permitted without authorization from France Publications, Inc. For information on reprints of this article contact Barbara Sherer at (630) 554-6054.