FEATURE ARTICLE, NOVEMBER 2008
RESIDENTIAL DEVELOPMENT IS CHANGING THE LANDSCAPE IN DOWNTOWN MANHATTAN
Coleman Wood
Downtown Manhattan is evolving into more than just a bustling business district, it is becoming a 24/7 neighborhood. The advent of new residential housing and retailers such as Tiffany's are attracting more and more attention from residents and multifamily developers. This month, Northeast Real Estate Business highlights two downtown projects that are changing the landscape of this underserved luxury market.
THE SETAI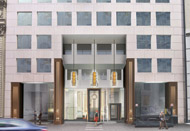 Developer: Zamir Equities
Location: 40 Broad Street
Size: 34 stories
About: Situated in the heart of Manhattan's Financial District, a little over a block away from Wall Street, Zamir Equities is developing the second location for luxury, high-rise residential brand The Setai. Much like the original, which is located in South Beach, Miami, Manhattan's The Setai is catering to wealthy residents in search of an unmatched living experience and amenity package.
"The developers recognized that downtown was a growing market, [but] it didn't seem to have the upscale residential projects that the rest of Manhattan does," says Nathan Feldman, director of asset management for Zamir Equities.
The 34-story tower boasts 167 studio, one-, two- and three-bedroom residences, as well as penthouses. Units will range in size from 475 to 3,424 square feet, and will be priced from $815,000. The price ceiling for residences at The Setai seems to have been set, as evidenced by the recent sale of the building's top-floor penthouse for $7.82 million. The 3,424-square-foot penthouse features three bedrooms, and a host of customized features that include the installation of a retractable wall of glass windows, Basaltina stone flooring, a private sauna, a wet bar with a wine case, and a A/V package that features six LCD TVs with Blue-Ray players and a surround sound system. For all of the attention the residences draw, the amenity package may call for even more.
"It will probably be one of the most upscale amenity-based buildings around," Feldman says.
The luxuries begin with Club Setai, Zamir's name for the 45,000 square feet of amenities on the second and third floor. These include SHO Shaun Hergatt, a restaurant that is open to the public, and features a private dining room and a wine cellar. Residents will be able to enjoy the members-only Setai Spa, a rooftop lounge known as Aarias, a private gym and concierge service.
The building, which formerly housed offices before the conversion began in 2006, will retain some of its office tenants after the building is complete in late spring. The Offices at The Setai will offer approximately 50,000 square feet of boutique office space. First occupancies for the residential units will occur this winter.
The Setai's residences were designed by world-renowned architect Jean-Michel Gathy of Denniston International. Avinash K. Malhotra Architects is serving as the project architect. The Setai Group, which has partnered with Zamir Equities to develop The Setai New York, is also developing The Setai Punta del Este in Uruguay and The Setai Bahamas.
50 WEST STREET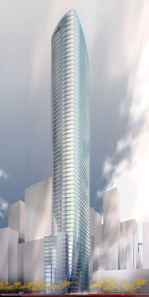 Developer: Time Equities
Size: 65 stories
About: On the west side of Lower Manhattan, Time Equities is developing 50 West Street, a $600 million, 65-story hotel and residential tower that is geared less to the Wall Street broker and more to the Manhattan family.
"This particular neighborhood is well known in Manhattan to have the finest school system in the city, and it has become a neighborhood in which families who decide to stay in the city have congregated," says Phillip Gesue, director of acquisition and development for Time Equities.
The feature of the 580,000-square-foot tower will be 239 residences with an average size of 1,450 square feet, as well as four penthouses that range in size from 3,800 to 5,800 square feet. While the price for the units averages $2.5 million, Gesue points out that the added cost is due to the larger, family-size units.
"There will not be a single stockbroker building, although we have some smaller units in that building for that demographic…It really will be a building that is more about lifestyle, families and people that want a real quality residence for their families," Gesue says.
At 50 West Street, some amenities are being designed with residents in mind. There is a children's play area with outdoor space, as well as a resident's only rooftop sky lounge that features outdoor areas, Japanese outdoor soaking tubs, a fireplace, a library, a screening room, a pool, a spa with a health food cafe, fitness areas, and rooms for yoga and pilates. Other amenities are being shared with the 150-room, upscale, boutique hotel that will also occupy the building. An approximately 4,000-square-foot restaurant inside the hotel will provide in-restaurant dining and room service to guests and residents.
"Being in a building where there is an ultra-luxury hotel that you're not obligated to pay for is nice, because it really means that you have retail in your building, and you can use it whenever you want to use it," Gesue says.
Another feature of the building is its pursuit of LEED-Gold certification, which Gesue says is as much about the philosophy of Time Equities as it is about providing a lower energy cost for residents. The project will feature a green roof, water-efficient fixtures, recycled demolition waste, and the use of sustainable or rapidly renewable construction materials. Additionally, the glass façade will be energy-efficient, stormwater will be recycled for landscape irrigation, and an automated blind and heating control system will maximize efficiency. Time is also thinking outside the box in their efforts to coordinate a European-style bike sharing agreement with other buildings in the area.
The building is set for completion in 2011. Gesue notes that the Helmut Jahn-designed building will exude quality, without being just another flashy high-rise.
"We would consider this building to be the Mercedes-Benz of buildings: it's extremely high-quality, but it doesn't have the over-the-top luxury of a Rolls Royce," says Gesue.

©2008 France Publications, Inc. Duplication or reproduction of this article not permitted without authorization from France Publications, Inc. For information on reprints of this article contact Barbara Sherer at (630) 554-6054.