FEATURE ARTICLE, NOVEMBER 2004
THE REIT WAY
REITs face stiff competition in strong Northeast markets.
Luci Cason

REITs are becoming an increasingly popular investment option, providing returns that are currently more reliable than those of the stock market. In contrast to the stock market's stagnant investment returns, REITs continue to provide investors with steady, reliably growing investments.
Equity Office recently acquired 717 Fifth Avenue in Midtown Manhattan.

"REITs have become an increasingly attractive investment for individual investors, especially after the collapse of many technology-related stocks," says Tom Garesché, Rockville, Maryland-based Federal Realty Investment Trust's Northeast region senior director for acquisitions. "There have been a number of studies showing that real estate holdings in an individual investor's portfolio increase the return and decrease the risk."

James Aries, vice president of acquisitions and leasing for Greenwich, Connecticut-based Urstadt Biddle Properties, agrees. "REIT stocks have generally been a very good investment over the last few years. REITs are gaining greater acceptance and investors now recognize the importance of diversification. This bodes well for REITs, as real estate will likely continue to appreciate as an investment vehicle over the long term."

However, as the demand for the reliability of real estate grows, REITs and their investors face steadily increasing competition for property acquisition from private investors.

Northeast Real Estate Business recently spoke with several of the region's prominent office, hotel and retail real estate investment trusts to gauge how these companies are dealing with increased competition and rising interest rates and what they predict for the future of REITs.

HOTEL

REITs are looking forward to an imminent recovery in the Northeast's hotel market.

"The Northeast hotel market is showing signs of a strong recovery and values have increased, as more capital is available to purchase hotels," says Joseph Green, president and chief financial officer of Raleigh, North Carolina-based Winston Hotels.

"We believe that we are in the first year of a multi-year recovery and that there is continued upside in performance," agrees Jay Shah, president and chief operating officer of Philadelphia-based Hersha Hospitality Trust. "Our experience, as well as that of our market peers, is that average daily rates are increasing more quickly than expected, allowing for stronger operating leverage, resulting in better earnings earlier in the cycle."

Hospitality in New York City is especially promising and primed for growth, says David Bulger, executive vice president, chief financial officer and treasurer for Palm Beach, Florida-based Innkeepers USA Trust. He notes that competition for acquisitions of full-service hotels in most Northeast markets is keen right now.
Equity Office is redeveloping Russia Wharf in Boston.

Bulger says that Northern New Jersey is particularly promising for hotel development and investment right now, while Philadelphia is holding steady and the Boston area is still struggling.

With this rebounding in the value of Northeast hotel properties comes a healthy amount of competition.

"Competition to buy quality hotel assets is very strong, not only from public companies but also from the private sector," notes Green. "There is a significant amount of private equity capital from opportunity funds and 'one-off' buyers to invest in the hospitality industry. Moreover, when that capital is joined with the increasing availability of low cost debt capital, it creates a highly competitive acquisition environment," he says.

To stay ahead of the competition, Innkeepers has been branching out to acquire properties catering to the leisure traveler rather than those that cater to the business customer. Innkeepers, which currently owns hotels in Connecticut, Maine, Massachusetts, New Jersey and New York, is also hoping to acquire additional properties in the hot hotel market of Northern New Jersey.

Shah notes that upscale premium limited-service and full-service hotels in the Northeast are affording strong margin growth, yields on cost and limited downside exposure right now.

Winston Hotels has put its focus on suburban markets in the mid-service, upper-end extended stay and premium limited-service hotels segments, such as Courtyard by Marriott, Hilton Garden Inn, Residence Inn, Homewood Suites, Staybridge Suites, Hampton Inn, Hampton Inn & Suites and Holiday Inn Express. "We believe that, in general, these brands do not have the propensity to be as volatile as full-service, resort and convention hotels," says Green. "They also require fewer employees to operate and tend to produce higher operating profit margins." In addition to properties with good operating track records, Winston is also investing in hotels that require substantial renovation or repositioning.

Consolidation could have some effect on the keen competition for hospitality acquisitions. The recent proliferation of new REITs in the public market could create opportunities for consolidation, as the substantial increase in public capital is invested, says Green. "Certainly, consolidation reduces the number of competitors for product in the market place, which might put less stress on pricing," he says.

Shah says that the trend toward consolidation makes sense. "Consolidations allow for more efficiency in management, pricing power and succession to stronger management teams," he says.

So what does the future hold for hotel investment in the Northeast?

"Hotel REITs in particular are faring well due to recovering fundamentals," says Shah. "I believe lodging stock values will increase by 20 percent over the next couple of years."

"I think that hotel REITs in general have done well in the current environment," agrees Green. "The hospitality industry has improved each quarter this year after coming off 3 years of poor results. It is expected to continue to improve next year," he says. "We intend to continue investing in the northeastern markets and believe that the growth in those markets will be strong in 2005 and beyond."

Bulger agrees, saying that he sees "a bright outlook for the next 3 years" for REITs in the current investment environment.

OFFICE

Chicago-based Equity Office is focusing its efforts on acquiring Class A properties in its top strategic markets, while disposing of properties in non-core markets.

"We have a focused effort in acquiring properties in the markets that meet our investment strategy," says Shobi Khan, Equity's senior vice president for investments. "We will wait for the right opportunities on the buy side and continue to recycle capital from our non-strategic assets and markets into the top strategic markets."

In line with this strategy, Equity recently acquired more than 380,000 square feet of high-rise, Class A office space in Midtown Manhattan at 717 Fifth Avenue. Built in 1959, the building features one of the city's first glass curtain wall structures, which allows expansive views along Fifth Avenue, Grand Army Plaza and Central Park. Current tenants include Merrill Lynch, European Investors, Cornerstone Equities, Sketchers USA and William Jones.

Equity Office is also redeveloping Russia Wharf in Boston. These three mercantile buildings in the downtown Fort Point Channel district will undergo a redevelopment that will "weave together the edge of Boston's financial district with the historic Fort Point Channel and will open up access to the waterfront with links to public open space and cultural resources," says Maryann Gilligan-Suydam, senior vice president of Equity Office's Boston region. When complete, the project will include approximately 500,000 square feet of office space in a 22-story tower, 300 hotel suites, several restaurants and more than 500 underground parking spaces, as well as a large waterfront plaza on the Fort Point Channel, designed to encourage pedestrian access to the waterfront.

Currently, Khan says, Equity's strategic Northeast markets include New York, where Equity owns more than 5 million square feet of office space; Boston, where it has more than 13 million square feet; and Stamford, Connecticut, with more than 1.6 million square feet.

Many factors play into choosing the most favorable locations for office properties, he says, including submarket dynamics (such as occupancy trends and the level of construction activity), potential office market and rental rate growth, and the ability to generate net operating income and cash flow growth.

"All of our decisions are made on an asset-by-asset basis," says Khan. "We are a value investor that waits for the right opportunities at the right time."

RETAIL

The acquisitions market for Northeast retail properties is particularly strong right now.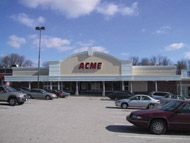 Federal Realty is renovating the 260,000-square-foot Andorra Shopping Center in the Roxborough section of Philadelphia. The center is anchored by Acme Markets, Kohl's, and Staples.

"REITs are performing well, and shopping center REITs are doing especially well, both as a business and as an investment," says Tom Garesché of Federal Realty Investment Trust. "REITs are enabling individual investors to participate in the valuation of real estate for the long term."

"The Northeast is the last frontier for major retailers because of the limited sites to locate, due to overall density and high barriers to entry," says Sandeep Mathrani of New York-based Vornado Realty Trust, which is currently redeveloping the 1 million-square-foot Bergen Mall in Paramus, New Jersey.

With the current health of the Northeast's retail market, REITs are finding competition keen, amongst themselves and with private investors.

"It is extremely competitive finding good neighborhood and community shopping centers right now, and we don't foresee that changing in the near future," says Garesché, noting that REITs are particularly popular right now due to low interest rates and the questionability of alternative investments, such as stocks and bonds.

"Competition from private buyers, who tend to be backed by institutions in joint venture arrangements, and by private REITs is intense," agrees Urstadt Biddle's James Aries, noting the difference in strategies between public REITs and private investors. "These buyers appear to have different pricing criteria than we do. We always tell ourselves that size is vanity and profits are sanity. We scratch our heads to understand why an institution would wish to invest in a property with little upside at a yield of 7 percent. This is the sort of buyer you don't want to compete with and there are many such buyers in the market now. There is also a great deal of competition from 1031 exchange money that we do not want to compete against because they have different motives."

Aries says of Urstadt Biddle, "We are long-term holders of real estate. We buy for capital appreciation and rising cash flow over the long term."

Garesché notes that private investors are strong competitors to REITs because they know their target markets well and are generally focused only on small market areas. "Secondly, with the historically low interest rates we have currently, capital is relatively inexpensive, and since they are usually leveraged buyers, they can pay aggressive prices," he says. "Despite predictions that rates would rise this year and choke off the market at a peak, rates have fallen again."

In the current market, grocery-anchored neighborhood shopping centers have proven to be a popular commodity.

More than 70 percent of Federal Realty's 16.8 million-square-foot shopping center portfolio is anchored by grocery stores and Garesché says that the REIT feels that grocery-anchored centers in major metropolitan areas with high population densities, above-average household incomes, and barriers to entry for new competition "have a strong potential for rental growth and limited downside risk."

Recently, Federal Realty formed a joint venture with Clarion Lion Properties Fund, a discretionary fund created by ING Clarion Partners to acquire up to $350 million of stabilized, supermarket-anchored, shopping centers in the Federal Realty's strategic East Coast and California markets.

"This partnership gives us the ability to acquire high quality, stabilized shopping centers that may not otherwise meet our property operating income growth targets," says Garesché. Through the joint venture, Federal Realty recently acquired two supermarket-anchored shopping centers in the Boston area for $38 million — Campus Plaza in Bridgewater, Massachusetts, and Pleasant Shops in Weymouth, Massachusetts. And, in keeping with its view that risk-adjusted returns are better from acquisitions and redevelopments than from new, ground-up developments, Federal also acquired Mercer Mall, a 477,829-square-foot regional shopping center, in Lawrenceville, New Jersey, in October 2003.

"Using our own capital for redevelopment is part of our acquisition strategy," notes Garesché. "Mercer Mall provided a very solid initial return upon acquisition that we expect to grow through additional re-leasing, remerchandising and redevelopment."

Urstadt Biddle has also been concentrating on Northeast grocery-anchored shopping centers, particularly in Northern New Jersey and New York's Westchester, Putnam, Fairfield and Rockland counties.

"There are greater barriers to entry in these markets and, consequently, no significant penetration of Wal-Marts and Targets extracting business away from the traditional grocers," says Aries. "Demographically, our core markets tend to be less susceptible to some of the difficult economic cycles that we have seen."

Urstadt Biddle is also focusing on redevelopment of retail centers, rather than ground-up construction. The REIT is currently redeveloping centers in Ossining, New York, and Darien, Connecticut, which will involve expansions of existing supermarkets and related upgrades.

Urstadt Biddle has also redeveloped the 312,000-square-foot Townline Square, in Meriden, Connecticut, which involved recapturing a closed Bradlee's Department Store and adding retailers such as Burlington Coat Factory, Linens 'N Things, Old Navy, Michaels and Panera Bread. Urstadt Biddle also recently acquired, and is in the process of converting, the largest open-air shopping center in Fairfield County, Connecticut — the 370,000-square-foot Ridgeway Shopping Center in Stamford. In White Plains, New York, a market that Aries says is booming due to increased residential development and pro-business sentiment, Urstadt Biddle recently acquired The Westchester Pavilion.

Aries is quick to note, however, that this retail boom might not last forever. "There appears to be a general perception by many that rates and inflation will remain at the current historically low levels for the foreseeable future," he says. "This perception and the relative health of the retail business are creating a 'you can't lose' attitude amongst some investors. This has driven cap rates down to unprecedented levels. This is a dangerous sand box to play in, as history surely will repeat itself, rates will rise and other property sectors will come back into favor and siphon capital away from the retail market," he continues. "This is a seller's market and if you want to make money rather than just buy for the sake of buying you must be very flexible and creative."


©2004 France Publications, Inc. Duplication or reproduction of this article not permitted without authorization from France Publications, Inc. For information on reprints of this article contact Barbara Sherer at (630) 554-6054.