FEATURE ARTICLE, APRIL/MAY 2009
CHANGING LANDSCAPES
Urban developers are taking their projects to new heights by creating new landscapes within urban environments.
Coleman Wood
Urban developments not only bring much needed services to growing cities, but they help create unique niches and landscapes for residents, shoppers and workers throughout the cities of the Northeast. In this issue, Northeast Real Estate Business profiles two new urban developments in Philadelphia.
PIAZZA AT SCHMIDT'S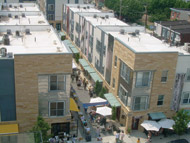 Tower Investments has transformed the former Schmidt's brewery into a mixed-use project more akin to a European city than the American brewery it once was.
Philadelphia's historic Northern Liberties neighborhood is an area in transition. Over the past few years, the previously declining neighborhood has attracted developers looking to restore it to its previous prominence. One of these individuals is Bart Blatstein, chairman and CEO of Tower Investments, who has taken the former Schmidt's brewery and transformed it into a sprawling mixed-use project more akin to a European city than the American brewery it once was.
Blatstein purchased the 28-acre brewery in 2000 at a sheriff's sale. The property had originally been zoned for a retail strip center, but he had bigger plans for it. Blatstein had visited the Piazza Navona in Rome decades earlier and thought the idea of a giant public square could work in Philadelphia. The project that sprung from this idea is a $500 million urban village that, at full build-out, will contain approximately 2,000 residential units, 350,000 square feet of commercial space, 150,000 square feet of office space and a boutique hotel.
The parcel is being developed as distinct, yet connected, projects. The first phase, which opened in 2004, is known as Liberties Walk. This phase contains 75 residential units, along with 50,000 square feet of ground-level retail and restaurants. So far, leasing has been successful.
"The residential aspect of Liberties Walk has always been very popular. It's a small village, if you could call it that," says Blatstein.
Across the street, the recently completed Piazza at Schmidt's continues this village aesthetic. Like Liberties Walk, it contains residential units over retail space — in this case, 500 residences and 100,000 square feet of commercial space — but there are differences as well. The Piazza at Schmidt's features 47 artist spaces, which average 400 square feet and are designed for use as studio and gallery space. It also contains a seven-story, 40,000-square-foot office building.
The heart of Piazza at Schmidt's is an 80,000-square-foot piazza that will serve as a gathering space for a multitude of events. It contains a stage for performances, as well as a $400,000 hi-definition LED screen that measures 16 feet by 26 feet. In the future, the piazza will host films, festivals, concerts and other events. Blatstein has already hired two people to handle events programming for it. With only two phases of the project complete, it is already building a positive reputation.
"When people come here and see the Piazza and Liberties Walk, the greatest compliment I get is when they say, 'I don't feel like I'm in Philadelphia,'" Blatstein says.
The next phase of development, The Shops at Schmidt's, will be located on the northern end of the site. This future phase is meant to add to the retail offerings of the project and help Blatstein realize his master plan for the project.
"My goal here is to create what I would call a 5-minute community. Within 5 minutes, you can walk to public transportation of any kind, whether it's train, trolley or buses. You can work in the office space that we offer. You can dine in one of the 10 restaurants we have in Liberties Walk and the Piazza. You can purchase your essentials at the Shops at Schmidt's," Blatstein says.
2.0 UNIVERSITY PLACE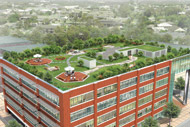 University Place Associates is currently developing 2.0 University Place, a 94,350-square-foot office building located at 30 North 41st Street in the University City neighborhood of West Philadelphia.
University Place Associates has unveiled plans for 2.0 University Place, a 94,350-square-foot office building located at 30 North 41st Street in the University City neighborhood of West Philadelphia. The Class A building will be located at the foot of University City Science Center, an approximately 1 million-square-foot office building that is currently undergoing a $600 million expansion. While the goal of UCSC is to attract emerging life sciences, biotech tenants, the project is almost fully occupied. This gives 2.0 University Place a unique niche, as it aims to provide space for companies wishing to expand their current offices at UCSC.
But that is not the only tenant base the $25 million project is hoping to draw from. Scott Mazo, a partner with University Place Associates, is optimistic that the area's many colleges and universities would be interested in the project.
"For local colleges in need of space, it's a natural, especially with them being in the University City area," Mazo says. "But it is also a natural fit to attract life sciences and technology companies, whether they're emerging or already substantial in size."
The 2.0 University Place project is also aiming for the pinnacle of sustainability, having been pre-certified LEED-Platinum. During the construction process, pollution prevention measures and the recycling of construction materials will help reduce waste and environmental impact. Alternative transportation options will also exist, including access to nearby public transit, on-site bicycle racks with changing rooms, car-sharing facilities and preferred parking for fuel-efficient vehicles. The building's exterior glass is high efficiency and south-facing sunshades will help keep the building's temperature constant, along with a high-efficiency HVAC system. One of the marquee features, though, is a green roof that features a 20,000-square-foot rooftop park. This feature doubles as a rainwater recycling program, as the water is filtered into a storage tank and subsequently used for things such as the operation of restroom fixtures. To Mazo, the decision to make the building as sustainable and efficient as possible stems from the company's values.
"Clearly, it [sustainable design] allows the work you're doing to have a positive social benefit," Mazo says, adding that the cost may be more in the short-term, but that does not outweigh the social returns of a project such as this.
The project is being designed by locally based Shraga Berenfeld Architects. Groundbreaking has not occurred yet, as University Place Associates is waiting for signed letters of intent for at least 60 percent of the building's space before beginning construction. Nevertheless, Mazo is confident that the project will get started by spring or summer.
"This is a tough environment, but we hope the features of the building — it being pre-certified LEED-Platinum — will help people get over the hump and make the decision to sign on," Mazo says.

©2009 France Publications, Inc. Duplication or reproduction of this article not permitted without authorization from France Publications, Inc. For information on reprints of this article contact Barbara Sherer at (630) 554-6054.