FEATURE ARTICLE, MAY 2005
MULTIFAMILY DEVELOPMENT SPOTLIGHT
Compiled by Nicole Thompson
Cranford Crossing
Cranford, New Jersey

The 50-unit Cranford Crossing is a transit-oriented development in Cranford, New Jersey.

In November 2004, construction began on Cranford Crossing, a transit-oriented downtown village in Cranford, New Jersey. "With declining opportunities for new development in the suburbs and state growth policy becoming increasingly favorable toward urban redevelopment, projects like this have become a primary focus," says Jeffrey Freireich, managing director of Kushner Companies. Westminster Communities, the construction arm of Kushner, is the developer of the project. "Cranford is a desirable, well-established suburban community in Union County. Its downtown business district presented a great opportunity, close to train and bus stations, at the same time that New Jersey was promoting the transit-village model of development."

Located one block from the train station, the $16 million Cranford Crossing will feature 50 condominium homes in three- and four-story buildings with ground-floor retail. The company will also build Cranford's first municipally owned parking garage, providing 310 spaces to be shared by commuters, shoppers, retailers and residents.

Designed to complement the rich architectural history of Cranford's thriving downtown area, the buildings' brick facades will highlight a neo-classical clock tower. The 50 condominium homes will cater to empty-nesters; commuters; and those attracted to the charm of a downtown lifestyle, combining immediate access to the train station with convenient retail amenities. The homes will offer one- and two-bedroom and two-bath luxury floor plans. "The proximity to bus and train service to New York and easy access to many of New Jersey's main thoroughfares makes the development ideal for commuters," says Freireich. "Plus, Cranford Crossing's pedestrian-friendly setting appeals to people of all ages who appreciate the ability to walk to shops, restaurants or banks."

Since the 1980s, a revitalization effort has been underway in Cranford's downtown business district. The downtown currently features more than 200 retail and service businesses, a five-plex movie theater and numerous restaurants. "Cranford was the first community in the state to create a Special Improvement District (SID), providing a source of capital from businesses for improvements, and an entity to oversee upgrades," notes Freireich. "We worked closely with township officials and the Downtown Management Corporation to design a project that would complement Cranford's rich architectural history and the revitalization already underway."

The Waldo Lofts
Jersey City, New Jersey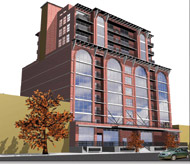 The Waldo Lofts, located in Jersey City, New Jersey, are designed to appeal to artists.

Fields Development Group recently began construction on a new condominium building that will prove vital in efforts to create a vibrant artist district near Jersey City, New Jersey's bustling downtown waterfront. Waldo Lofts will feature 82 loft-style residences and ground-floor commercial space — all designed to appeal to artists.

The 12-story building will rise within the eight-block neighborhood of early-20th century warehouses and former industrial plants that has been targeted by city officials and civic leaders as the future site of an artist work/live district that will link with Jersey City's Hudson River Waterfront to provide direct access to the city's major business centers once completed. The $22 million project will provide residences with a number of unique features including oversized doors and hallways to accommodate artists' work. There will also be 7,894 square feet of retail space, half of which will be devoted to artist-related uses, while the lobby of the building will be utilized as a gallery.

Waldo Lofts will feature a mix of studios, one-, two- and three-bedroom layouts — some with dens — as well as several duplexes. Interior layouts include raw open space, spacious living and dining rooms, open kitchens and approximately 11-foot to 19-foot ceilings. Ranging in size from 665 square feet to 2,415 square feet, the homes will be priced at market rates ranging from $250,000 to $700,000. Initial occupancy is expected to begin in December 2005.

According to James Caulfield Jr., prinicipal with Fields Development Group, buyers may range beyond the targeted artist market.

"These homes have been specifically designed with the unique needs of Jersey City's nearly 1,600 artists in mind," says Caulfield. "However, the expansive layouts also offer flexible floorplans to appeal to homeowners who desire traditional living areas and a more conventional lifestyle. The homes will provide perfect living spaces for growing families to settle down, establish roots in the area and create a close-knit, urban neighborhood."

Design was provided by Minervini Vanderark Architecture.

Parkview Commons
Bronx, New York City, New York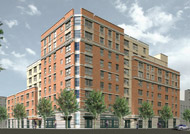 Parkview Commons will add more affordable housing to the 35-block Melrose Commons Urban Renewal Area in the Bronx, New York.

Parkview Commons, a new mixed-use affordable housing development on Elton Avenue and East 161st Street in the south Bronx, broke ground in March.

The nine-story apartment building is in the Melrose Commons Urban Renewal Area, a 35-block area that has been transformed during the last decade. The stringent guidelines of the Melrose Commons area definitely affected the design of the building, according to Magnus Magnusson, principal with Magnusson Architects, the design firm for the project. Also affecting the project was the status of the site as a former brownfield, allowing developers to capitalize on New York's new brownfield remediation funding program.

The building is scheduled for occupancy in mid-2006 and will contain 110 rental apartments for low-income households, 8,000 square feet of retail space and 29 parking spaces. It is part of a joint venture created by local activist Yolanda Garcia, who recently passed away, and the neighborhood group she headed, Nos Quedamos (We Stay); Melrose Associates LLC; and L & M Equity Participants Ltd. The builder is L & M Builders, LLC.

Rents are expected to start at $620 for a one-bedroom, and go up to $930 for a three-bedroom. "With the building's great visibility on a the prominent corner of the bend in 160th Street," says Magnusson, "we tried to design a landmark, and the project pivots around that corner."

With retail space fronting East 161st Street, a major east-west thoroughfare in the Bronx, the residential portion steps down in height as it wraps around a landscaped plaza on Elton Avenue. Residential amenities include a community room, an attractively landscaped recreational open space, and a ground-floor laundry space that faces the outdoor playground area for residents.

The second phase of the development, Parkview Commons II, will break ground later this year. The mixed-use project encompasses 88 rental units and 6,500 square feet of retail.

StoneRidge at Fairfield
Fairfield County, Connecticut
Stoneridge at Fairfield combines high-end amenities and proximity to transportation. Many multifamily developers are looking to transportation and unique formats in the heated multifamily market.

Stoneridge Partners, an investment and development firm based in Fairfield and New York City, has unveiled its new $55 million residential development, StoneRidge at Fairfield. The 70-unit condiminium project topped out in record time — less than 12 months after the firm acquired the prestigious site. The luxury condo project is located in Fairfield in close proximity to the $300 million Fairfield Metro Center currently underway. "The dynamics of the site are great," says David H. Small, co-founder of Stoneridge Partners. "The formerly industrial/commercial area is burgeoning with new development, with the Fairfield Metro nearby, along with around 500,000 square feet of office; retail; a large gym; and a flagged hotel."

The project is the first in Connecticut by Stoneridge Partners, a company founded by real estate experts Robert S. Skolnick and Small, and is slated for completion by summer 2005.

Designed by local architecture firm Rose Tiso & Company, the community resembles the brownstones of New York City with brick and stone-clad exterior and classic detailing. The 70 single-floor homes are available in one-, two- and three-bedroom layouts. The homes admit abundant natural light and all have private outdoor balconies or terraces; more than half of the residences have corner exposures.

The homes feature walnut flooring, custom moldings, 10-foot ceilings with expansive windows and 8-foot doors throughout. Other amenities include individually-controlled central heating and air as well as washers and dryers. Kitchens are equipped with limestone countertops and black walnut peninsulas, along with Viking stainless steel appliances and Kohler fixtures and fittings. The limestone in the kitchens was recovered from the site after 18 days of blasting in preparation for development, in addition to its incoporation into the exterior wall of the development. Master baths will feature marble flooring and walls surrounding a platform tub deck, separate glass-enclosed shower, private water closet and single or double sink sets.

Among the many community amenities is the Ridge Club, a $1 million clubhouse exclusively for residents of Stone Ridge, with approximately 5,000 square feet of space. Residents will also have access to an on-site conceierge, porter, underground garages, private storage rooms, car wash area and community bike storage.

"This community will appeal to both commuters interested in the accessibility of the location and those who are looking for a scaled-down, single-floor plan with no stairs to negotiate that don't want to give up high-end amenities and location," says Small.

Velocity
Hoboken, New Jersey
Velocity is a 128-unit complex underway in Hoboken, N.J., with occupancy scheduled for this summer.

Velocity in Hoboken, New Jersey, is being developed by Hoboken-based REMI Companies. Consisting of 128 luxury homes, this condominium complex has been selling quickly. Last summer, the 44 units of Phase 1 were all reserved within 12 hours after homebuyers camped out as if waiting for tickets to a sure-to-sell-out music concert.

Situated in two buildings on the west side of Hoboken, between Sixth and Seventh streets, Velocity is within walking distance to the new Hoboken light rail station.

"Velocity's innovative designs, outstanding location and first-class amenities will appeal to a variety of homebuyers from young professionals to empty nesters," says Erik A. Kaiser, principal of REMI Companies. These homes will average 1,050 square feet to 1,609 square feet and feature high-end amenities and finishes, including distinctive granite and marble throughout each home. Residents will also enjoy the buildings' state-of-the-art, on-site fitness facility. Velocity will include 28 one-bedroom, one-bath units; 92 two-bedroom, two-bath units; and eight three-bedroom, three-bath homes. The community will also offer 148 ground-floor, indoor parking spaces, as well as a 25,000-square-foot courtyard situated between the two buildings. First occupancy is scheduled for summer 2005.


©2005 France Publications, Inc. Duplication or reproduction of this article not permitted without authorization from France Publications, Inc. For information on reprints of this article contact Barbara Sherer at (630) 554-6054.