COVER STORY, JUNE 2005
HIGH HOPES FOR HARLEM
With much of Harlem's west side undergoing revitalization, the developers of Harlem Park plan to bring that movement east.
Lara Fuller
Harlem is hot right now. Considered the gateway to Manhattan, the area is seeing tremendous amounts of new development aimed at creating for the community a fresh look and new image. Harlem Park is one of the most significant developments currently underway and will bring change to Harlem in more ways than one. 1800 Park Avenue LLC, a division of Majic Development Group, is developing the mixed-use project that will bring not only office, retail and residential space, but also jobs and revenue to the community.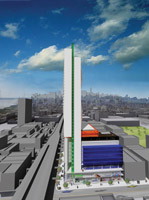 "This is the first property of its kind bringing Midtown amenities to Harlem," says Michael Caridi, managing principal of New York-based 1800 Park Avenue LLC. "We will raise the bar for the revitalization efforts that the area has seen in recent years." Other developers have focused attention on Harlem, but few at this level. Harlem Park, located at 125th Street and Park Avenue, will feature 250,000 square feet of office space, a 204-room hotel, spa, restaurants, 62,000 square feet of retail space, 100 residential units, a parking garage and outdoor space. All of these elements will be located in one structure, consisting of a main building and 475-foot tower. Harlem Park, designed with modern geometric glass and exposed concrete architecture, will offer consumers and residents views of Central Park and the Long Island Sound. Ten Arquitectos/MDA DesignGroup is the project architect for Harlem Park and completion is currently scheduled for 2006.

Hotel Harlem

One of the most anticipated parts of the Harlem Park project is the hotel component. This will be the first major hotel Harlem has seen in approximately 40 years and having a widely recognized brand will be a big draw for the new complex. The 204-room Marriott Courtyard will cater to tourists and business travelers, as well as the hospitals and higher-education facilities located nearby. A 35,000-square-foot event facility will also be located on site to cater to weddings, business meetings and conferences. The hotel, along with the event facility, will be a huge revenue generator for the area. Not only will the hotel employ a number of people from the community, the event facility will bring back businesses that are now meeting in Manhattan. "Harlem Park is the property that will begin bringing money back to the area," says Caridi. "It is located directly across from the 125th Street Metro North Station, which carries 270,000 passengers through the site per day. That alone will bring consumers to the property. Not to mention the 200,000 hotel guests that are expected each year."

The hotel will also benefit the community through its diversity outreach program. Marriott has established a program to support minority- and women-owned businesses. The company has made several pledges, which include spending $1 billion with minority- and women-owned suppliers over the next five years and forging relationships with minority- and women-owned financial services companies. By employing members of the community and investing money into local businesses, the Marriott Courtyard and Harlem Park will become an integral part of the neighborhood's economy.

Wanted: Big Business

The office portion of Harlem Park, known as The Offices at Harlem Park, will feature 250,000 square feet of Class A space, as well as meeting and seminar facilities. What makes The Offices at Harlem Park stand out from other office buildings in the area is that it is being marketed to a range of corporate clients, as major corporations have been hard to find in Harlem. The area has traditionally been home to small businesses, government agencies and non-profit groups. Now, Caridi hopes to bring Fortune 500 companies to the site. "Corporate clients will want to be a part of Harlem's rich history," says Caridi. "They will also receive tremendous economic incentives for doing so."

In addition to economic incentives, the project's location will be another reason for companies to build their business in Harlem. Along with its proximity to the 125th Street Metro North rail station, the complex is one block from the Lexington Avenue subway station. With several transportation options located nearby, The Offices at Harlem Park is ready to become a hub for big business. As major corporations begin to locate in Harlem Park, more will follow, further fueling the revitalization efforts throughout the community.

Bringing The Money Back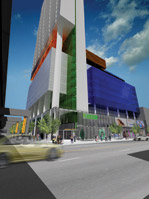 Taking a closer look at Harlem Park.

The Shoppes at Harlem Park, the 62,000-square-foot retail aspect of the project, is also attracting companies that previously overlooked the neighborhood. Starbucks Coffee has already committed to the project, as well as Brand Jordan. Brand Jordan, a division of Nike, is opening its flagship retail store at the site. Bringing in national retailers is a huge step for the project and will encourage other recognized retail stores to locate in the complex and throughout Harlem itself. "There is tremendous interest in attracting national retailers that are looking to get into Harlem," says Caridi.

In the past, most residents of Harlem had to go elsewhere to fill their office, hotel and retail needs. "Last year 70 percent of the $2.4 billion spent by Harlem residents was spent outside of the neighborhood," says Caridi. Now, with the development of Harlem Park, much of that money will stay in the area. Harlem Park will also feature restaurants and a jazz club, giving residents more entertainment and dining options in their community.

Job Generator

In addition to keeping shoppers and businesses in Harlem, the project will also generate a number of jobs for local residents. "Harlem Park is planning to hire from within the community," says Caridi. "In fact, at least 50 percent of the 960 new jobs created by Harlem Park will go to Harlem residents. And the plan is to always hire from within the community when possible." And while under construction, Harlem Park will also create 1,500 jobs related to the building of the project. 1800 Park Avenue LLC has worked closely with local and city organizations to make sure the project will benefit Harlem and its residents. "We have worked diligently with city council members and public officials to design the property in a way that was acceptable to the community," says Caridi.

By making this project an important part of the community, by providing both jobs and uses not previously in this area, Harlem Park will remain a draw for the area for years to come. "Harlem Park will serve as the gateway to Manhattan by bringing the new Harlem renaissance to Park and Fifth, bridging East and West and providing an infusion of capital and new jobs into the community," says Caridi.

New York City Development Spotlight

133 Water Street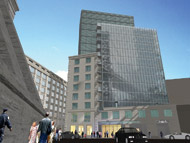 Estimated completion: Early 2006

Size: 12 stories with underground parking, first-floor commercial space and 52 residential units

Type: Mixed-Use with Residential Condominiums

Residential Component: Primarily one- and two-bedroom configurations, with some studio and three-bedroom space. One-bedroom units average 800 square feet and two-bedrooms average 1,000 square feet.

Architect: Charles Diehl of Scarano & Associates Architects

Developer: The Guttman Family

Marketing: The Developers Group

Special Features: Triple-Glazed Glass Curtain Walls in addition to high-grade acoustically insulated exterir walls to mask the noise from the Manhattan Bridge; 9-foot ceilings in residential component; fitness room; roof deck with recreational space and washer-dryer hook-ups.

133 Water Street is the first ground-up construction at the base of the Manhatten Bridge in 100 years. With spectacular views of Manhattan, the development is located in the up-and-coming DUMBO (Down Under Manhattan Bridge Overpass) area of New York City. With eclectic neighborhood buildings and in a an area where some cobblestone streets still remain, 133 Water Streeet is positioned to match the angle of the Manhatten Bridge and to best capture the views of the city.

©2005 France Publications, Inc. Duplication or reproduction of this article not permitted without authorization from France Publications, Inc. For information on reprints of this article contact Barbara Sherer at (630) 554-6054.